Try Our Weekend Dinner Specials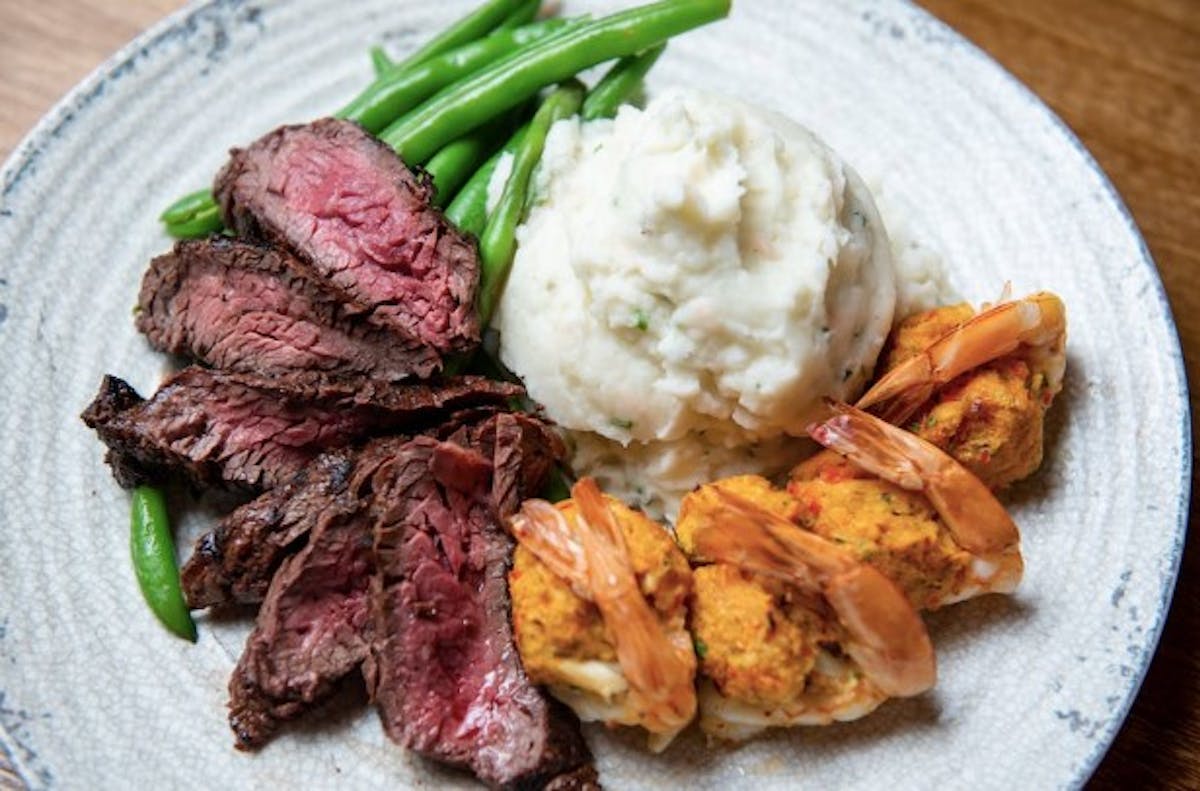 Are you looking for fantastic weekend dinners and entertainment? Well, look no further! Lucky's Lounge is the spot for you. Please continue reading to discover our specials today.
Enjoy Dinner Specials Every Weekend!
Below is a list of the specials we offer here every weekend.
Fish Stick Friday
Chef Dell's famous hand made fish sticks, fires, coleslaw and house made tartar. This dish is served for $28
Surf & Turf Saturday
Strip steak au poivre and baked stuffed shrimp with garlic mashed potatoes and buttery green beans. This dish is served for $28
Sun-Date Night Dinner Deal
This is a fantastic deal for an unbeatable price! Indulge in 1 appetizer, 2 entrees, & 1 dessert for an affordable $40! This deal is available open to close on Sunday nights. To discover what lies on our menu, and what our team recommends, be sure to keep reading.
Our Menu
Appetizers
Chicken Wings Or Tenders
buffalo, bbq, honey mustard, or ginger chili
Cheeseburger Sliders
caramelized onions, pickles & truffle aioli
Lucky's Nachos
grilled chicken, black beans, pico de gallo, guacamole, cheese sauce, jalapeno, lime crema, flour tortilla
Crunchy Tuna Roll
sweet soy, spicy mayo & seaweed salad
Pork Dumplings
soy ginger dipping sauce
Fried Calamari
R.I. style w/ cherry peppers & garlic butter
Chicken Empanadas
salsa fresca & guacamole
Fried Pickles
chipotle ranch sauce
Bacon Cheese Fries
scallions & creamy ranch
Buffalo Cauliflower
Great Hill blue cheese sauce
Pretzel Bites
roasted poblano cheese sauce
Classic Caesar Salad
romaine hearts, croutons & parmesan
B.L.T. Salad
iceberg lettuce, tomatoes, cucumber, radish, bacon, pickled onions & blue cheese dressing
Entrees
Lucky's Sample Platter
buffalo tenders, fried pickles, cheeseburger sliders, hand cut fries, pretzel bite
Grilled Sirloin & Stuffed Shrimp
roasted mushroom gravy, green beans & mashed potatoes
Crispy Fried Chicken Dinner
4 pieces of buttermilk marinated bone in chicken, served with hand cut fries
Beer Battered Fish & Chips
house made tartar sauce, coleslaw +hand cut fries
Tenderloin Steak Tips
prime tenderloin steak, garlic butter, grilled onions & truffle fries
Shrimp Fried Rice
stir fry shrimp w/ vegetables, ginger, garlic, edamame & sweet soy sauce
Bacon-Chicken Mac'n'Cheese
creamy four cheese blend mac & cheese, chicken tenders & smoked bacon bits
Plain Mac & Cheese
creamy four cheese blend mac & cheese
Dessert
Chocolate Brownie & Ice Cream
Contact Our Team at Lucky's Lounge Today!
To take part in these weekend dinner specials, don't hesitate to secure your spot! Make your reservations here! If you want more information about these specials or ongoing happenings, please feel free to get in touch with us by calling (617) 357-5825 today.