What Kind of Drinks Are Served at Speakeasies?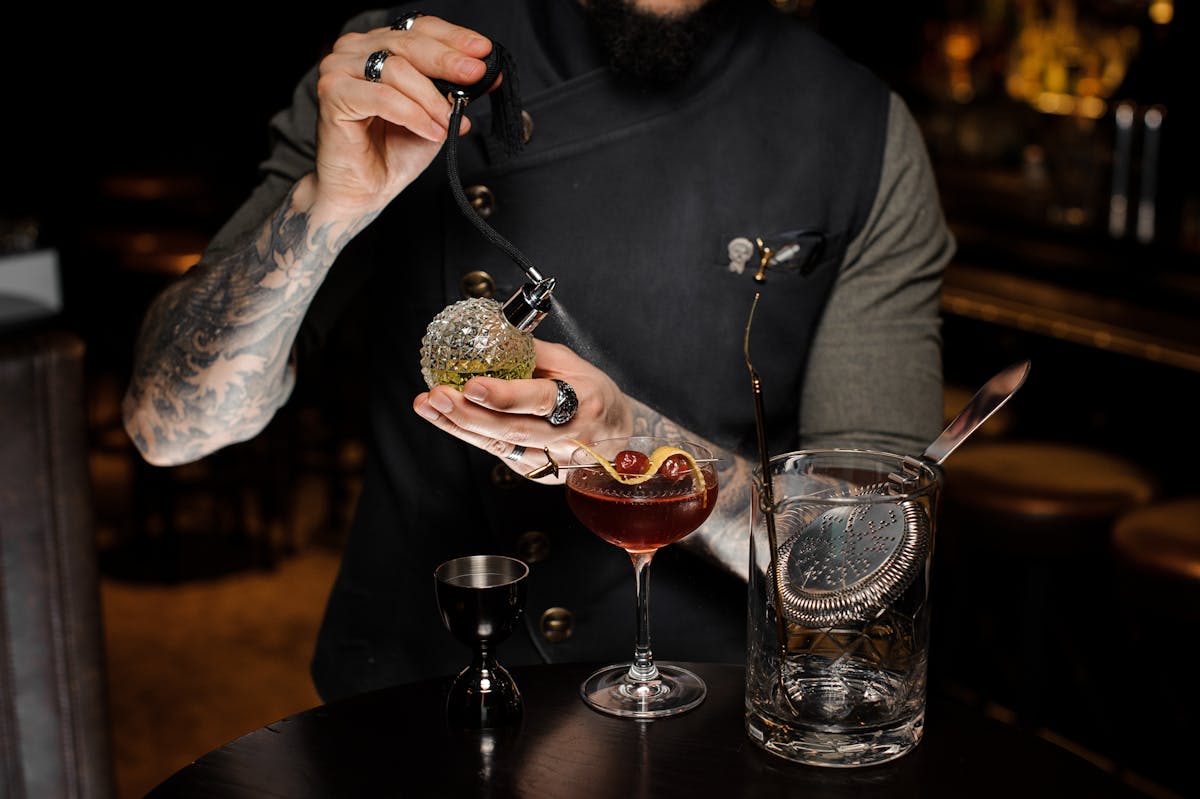 Speakeasies had to get creative with their cocktail mixing during Prohibition because liquor was illegal. During the Prohibition era, some of the most iconic happy hour cocktails were born out of a need to disguise alcoholic drinks. See what kinds of drinks Lucky's Lounge serves in this blog post.
Classic Cocktails
Blood & Sand
Johnny Walker Black, Cherry Heering, Sweet Vermouth, Orange
French 75
Hendricks Gin, Lemon, Simple, Prosecco
Aviation
Sipsmith Gin, Maraschino Liqueur, Violet, Lemon
Naked & Famous
Casamigos Mezcal, Yellow Chartreuse, Aperol, Lime
Red Hook
Old Overholt, Punt e Mes, Maraschino, Brandied Cherry
The Bees Knees
Sipsmith Lemon Drizzle, Lemon, Honey
Painkiller
Plantation Dark Rum, Plantation O.F.T.D. Overproof, Cream of Coconut, Orange, Pineapple, Nutmeg
Paper Plane
Woodford Reserve, Aperol, Montenegro, Lemon
Sazerac
Old Overholt, Peychaud's Bitters, Simple Syrup, Absinthe
The Last Word
Fords Gin, Green Chartreuse, Maraschino, Lime
Signature & Seasonal Specials
Red Bull Blueberry Ricky
Triple Eight Blueberry, Red Bull Blue Edition, Lime Juice
High Roller Margarita
Don Julio Blanco, Cointreau, Agave, Lime, Lime Citrus Salt
Erin's Pimms
Crop Cucumber Vodka, Pimms, lemon, orange, Fever-Tree ginger beer
Pomegranate Mule
Ketel One Peach & Orange Blossom, Pom Syrup, Lime Juice, Fever-Tree Ginger Beer
Ghost Pepper Paloma
Ghost tequila, St.Elder Blood Orange liqueur, lime, Q Sparkling Grapefruit Soda, salted rim
Double Down
Hendricks Gin, St. Germain, Cucumbers, Mint, Prosecco Float
Rye And Ginger
Bulleit Rye, Domaine De Canton Ginger, Lemon
Seaport Sling
Fords Gin, Aperol, St. Germain, Lemon
Lucky's Punch
Plantation Stiggins Fancy Pineapple Rum, Plantation Overproof, Pimento Dram, Orange, Cranberry, Tiki Bitters, Nutmeg
Fire Cracker
Grapefruit vodka, Lime, Habanero Simple, Cranberry
Red Spiced Sangria
Red Wine, Hennessy, White Rum, Orange, Pear, Apple, Orange
Contact Lucky's Lounge for More Information
For more information about what kind of drinks are served at Lucky's Lounge that resembles the prohibition era, contact our team today! We'll be happy to provide you with a menu of our fan-favorite adult beverages. Call us at (617) 357-5825 or fill out a contact form today. We can't wait to hear from you!