Monday Comedy Shows in Seaport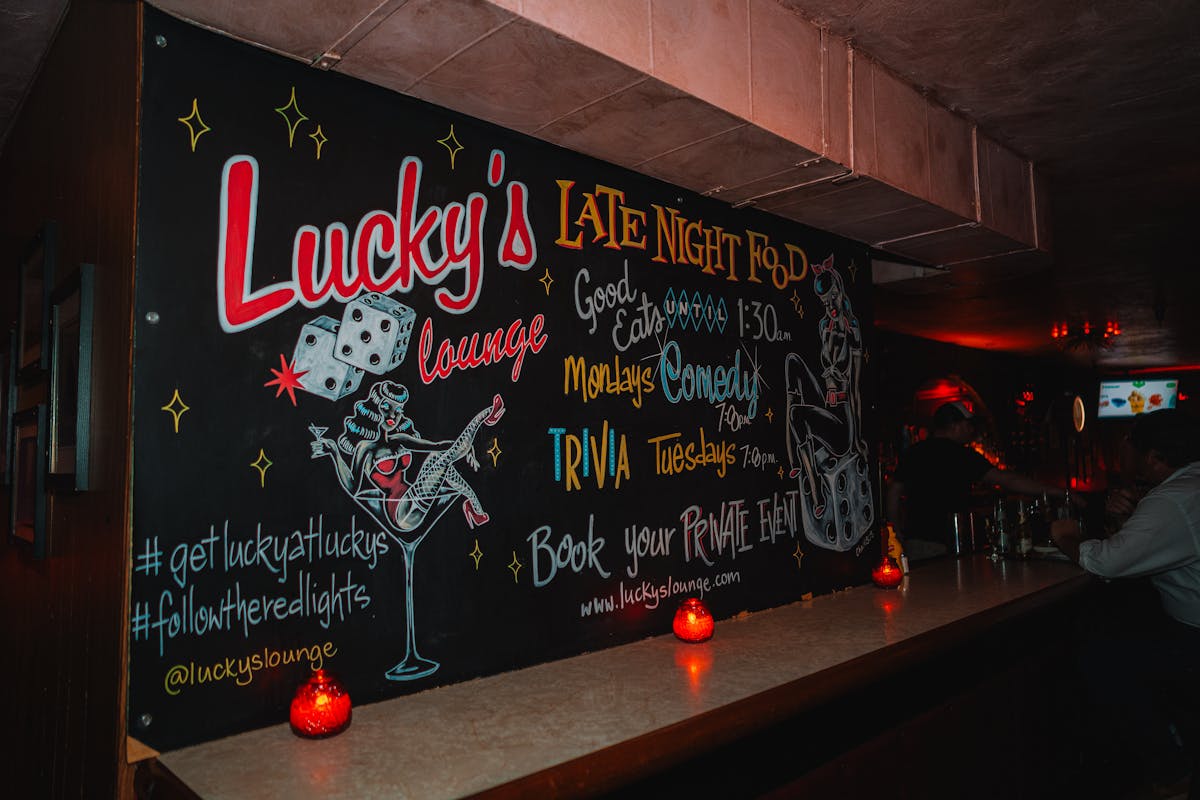 Are you looking for a way to make Monday nights fun in Seaport? At Lucky's Lounge, we are here to help! Every Monday night at 7:30, we have the country's funniest standup comedians come to perform their hilarious acts at our free standup comedy show! These hilarious shows are a great way to spend a night out with friends, get dinner with co-workers, or for a date night. So, what are you waiting for? Amplify your Monday nights in Seaport at Lucky's comedy show!
Lucky's Lounge Monday Comedy Shows
The Monday Comedy Show at Lucky's Lounge is a guaranteed good time. With our discrete location in the Seaport District, Lucky's underground location boasts a lively atmosphere that mirrors a 1960s speakeasy! Our free standup comedy shows start at 7:30 pm and regularly include New England's best comedians who have been featured on Netflix, Comedy Central, HBO and more. Take advantage of the perfect way to elevate your Monday nights in Seaport at Lucky's comedy show!
Benefits of Attending a Comedy Show
Attending a comedy show comes with various benefits, including having fun and laughing, discovering new comedians, socializing and networking with others, and even relieving stress. Research has shown that laughter has therapeutic benefits and can promote physical and emotional well-being. Plus, attending a comedy show is a great way to get out of the house, enjoy a night out with friends or loved ones, and support local talent. Lucky's Lounge Monday Comedy Show offers all of these benefits and more, making it a fantastic way to spend your Monday nights in Seaport!
Tips for Attending Lucky's Lounge Monday Comedy Shows
Are you ready to attend Lucky's free comedy show on Monday nights? Whether you are ready or not, here are some tips to ensure your group maximizes your experience and laughs the night away. Firstly, we recommend arriving at our Monday show 30 minutes early at 7 pm for a 7:30 pm showtime. You can find your table in these thirty minutes, as seating is on a first-come, first-serve basis. Second, our Lucky's show is free for all guests who purchase something from Lucky's. That being said, find your seat, order a drink, and pick out a tasty appetizer for you and your table to split!
Visit Lucky's for Monday Night Comedy
If you're looking for a fun and entertaining way to spend your Monday nights, consider visiting Lucky's Lounge for their Monday Night Comedy shows. With a lineup of talented comedians and a lively atmosphere, these shows will leave you laughing and having a great time. Don't miss out on this fantastic opportunity to support local talent and enjoy a night of laughter. Visit Lucky's Lounge for Monday Night Comedy, and prepare for a great time! For more information about our comedy show, please visit our website!